As we've begun reopening the workplace from various shelter-in-place orders, there is a lot of uncertainty around how exactly this should look. We know it's going to be different, but what does that mean? In our workplace readiness series, we'll be uncovering some suggested best practices to safely get us all back on track, starting with the ever-familiar (at least nowadays) SOCIAL DISTANCING.
Social distancing also referred to as "physical distancing," means maintaining space, at least 6 feet of space to be exact, between yourself and others outside of your immediate household. Practicing social distancing helps to reduce disease transmission; therefore, reducing the number of sick patients while also decreasing the burden on health care systems.
So what does this look like in the workplace? Below we've provided ways to practice social distancing within your work environment.
Avoid Large Groups
The most obvious place to start is to avoid having large groups congregate. To help with this, you can:
– Limit the number of visitors allowed
– Split up team meetings by having some call in, and a few meet in-person spaced 6 feet apart
– Rearrange common areas to remove excess furniture and space out remaining items

For the time being, if unable to allocate the proper amount of spacing, fitness centers, cafeteria seating, game rooms, public shared conference rooms, etc. should remain closed.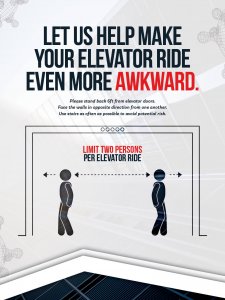 Elevator Etiquette
We all know some elevator rides can be quite awkward, well it's time to step that up, in the name of safety! Instead of rushing to cram into a crowded elevator, it's best to allow a max of TWO people per ride, while riding face the wall in the opposite direction of the other passenger. Also, note that the stairs are a better alternative if you are capable and able to take them.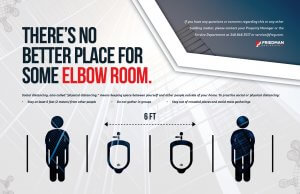 Elbow Room
It's essential to make space, even in places you may least expect it. Social distancing protocols must be maintained at all times, even in the restrooms. Try to make sure there are no more than two people at a time (counting yourself) when using the bathroom, take turns using the sinks to ensure 6 feet of distance is maintained, and it's good practice for men to space out if using the urinals.
Wayfinding Reminders
As social distancing is an unfamiliar practice for most, sprinkling helpful signage throughout your space will help serve as a reminder. Adding a marker outside of the elevator door will help remind everyone to stand 6 feet from the entrance to allow passengers to disembark at a safe distance. Adding markers on the floor will help people to know where they should be walking to maintain a safe distance as they travel throughout the space. Wall and shared space social distancing signage will help eliminate any confusion.
Contact us to learn more about our workplace readiness and how we can help safeguard your work environment.