Whatever else you say about Fiat's Sergio Marchionne — and he gets called lots of names in Detroit — he does one thing few other CEOs in any industry are willing to do: He personally presents a five-year plan for his company with clearly measured goals, and he holds himself accountable for meeting those goals.
Wearing his trademark blue checked shirt and dark crew neck sweater, Marchionne took the podium Tuesday in Auburn Hills to present his second five-year plan since taking over Chrysler in 2009. He has a lot to take credit for: He now presides over a single unified company, newly christened Fiat Chrysler Automobiles, that is profitable and growing. He has made Jeep into one of the hottest nameplates in the U.S and set it on an expansive plan for global growth, and unlocked the potential of Chrysler's highly profitable truck business by creating the Ram brand.
Not all of his initiatives have been successful. Europe's deep recession and confused EU politics have drastically slowed Fiat's recovery in Italy, while the rejuvenation of Alfa Romeo has been so often delayed that it has become an international joke. Technology, capability, and refinement are spread unevenly around the company's products. With group annual sales for 2014 expected to come in around 4.5 million units, Fiat Chrysler is still well short of the scale of 6 million Marchionne has long contended that the automaker needs to become globally competitive.
Tuesday's presentation reminded everyone once again that the real muscle in Fiat Chrysler belongs to Jeep. Marchionne plans to double global Jeep sales to 1.9 million by adding new models and rapidly expanding production overseas. He has the wind at his back. Helped by the launch of the small Renegade, developed with Fiat, Chrysler sold 85,000 Jeeps in April, the most in its 73-year history. By 2018, FCA will be selling as many Jeeps as Fiats.
Destined to receive less attention from car enthusiasts, but far more important to future securities analysts, is another Marchionne success: the Ram pickup. As the new kid on the block — it didn't become a separate brand until it was split off from Dodge in 2009, Ram has gained 10.6 points of market share since the fourth quarter of 2009 against Ford (F,Fortune 500) and General Motors (GM, Fortune 500) trucks and is seeing sales accelerate. One of Chrysler's most competitive vehicles, it claims segment leadership in fuel economy, power, and payload, and Marchionne sees sales growing from 463,000 last year to 620,000 in 2018.
The biggest surprise in Marchionne's plan is his intention to transform the Chrysler brand — which now decorates the hood of just three models — from an afterthought into a full-line contender. He envisions expanding its product portfolio with a new small car and two new crossovers that will give it coverage of 65% of the market by 2018 vs. 25% today, with a goal of reaching annual global sales of 800,000 by 2018, vs. 350,000 now. By comparison, Dodge brand is losing its minivan, seeing its brand focus narrow to performance, and is expected to hardly grow.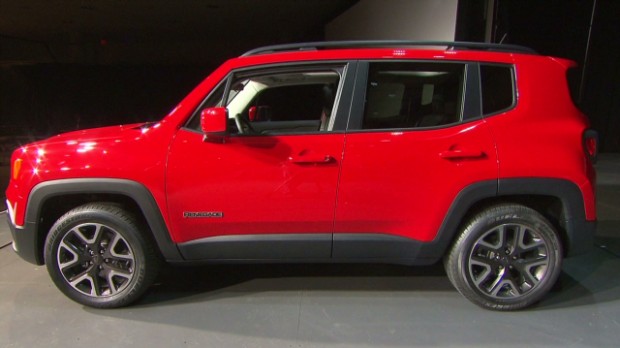 Jeep's new ultra-small SUV
His plan is likely to raise questions going forward because Marchionne seems to have no real vision for Chrysler that will give it a unique selling proposition and allow it to compete with full-line producers like Toyota (TM) and Ford. Its marketing message falls back on tired claims for craftsmanship and value that are hard to differentiate from competitors. And pitching the once-upscale Chrysler brand as an affordable alternative for "hard-working everyday Americans" takes all the aspiration out of buying a new car.
Years ago, Chryslers were known for their innovative engineering; now Chrysler's sole technological advantage is its nine-speed automatic transmission, a unique FCA feature whose benefits are only faintly visible to the average consumer. That's not all. Mass-marketing requires size, reach, and depth at retail. Chrysler's distribution network has none of those attributes.
An equally controversial part of Marchionne's five-year outlook is his continued patience with Alfa Romeo. It's as if a student who consistently flunked his exams was promised he could graduate Phi Beta Kappa. Despite years of fumbling, Marchionne still refers to Alfa as one of his two "pillar" brands (Jeep is the other one) and foresees Alfa's sales growing fivefold by 2018 with the addition of five new models: a midsize and full-size car, two crossovers, and another sports car.
Another characteristic that sets Marchionne's leadership apart is his candor and willingness to admit mistakes. Refreshingly, Marchionne never treats his audience as ignorant or uninformed. His frank approach was on display in the Alfa Romeo presentation, which apologized for Alfas from the 1980s that had been badge-engineered from Fiats and Nissans. Later cars looked better but, as Marchionne's team admitted, failed to live up to the mechanical and dynamic heritage of Alfas from the glory days. "The DNA of Alfa Romeo had not been respected," brand chief Harald Wester said in the Detroit News, and he called for "a radical solution."
Marchionne was equally candid in dealing with the Dodge Dart, which is widely viewed as an underperformer in the midsize segment and its sales have disappointed. Rather than trying to keep Dart's shortcomings hidden, he had them put in clear view. At Tuesday's event, Dodge said it would produce fewer high-trim models to bring down Dart's price points and accelerate a mid-cycle freshening to update its design and improve its handling characteristics.
One little-noticed but important change in the corporate structure of the new company that Marchionne engineered is including Ferrari, which was not part of the old Fiat Automotive even though it was owned by Fiat Group. Its inclusion should dispel fears that FCA will run short of cash. Ferrari is enormously profitable and limits sales to 7,000 cars a year to maintain exclusivity. Marchionne hinted that production could grow to 10,000 per year, with profit margins of 15% a year (vs. 4% for FCA), and he valued Ferrari at some $5 billion.
Marchionne concluded his presentation by flashing a slide declaring "Ferrari is not for sale." The Canadian-born accountant certainly knows the value of a dollar (or a euro). After all, he convinced the U.S. government to give him all of Chrysler — including Jeep — for nothing.