Photo: Model D
This week, more than 1,300 downtown development professionals, volunteers, and thinkers from different Main Street communities around the country invaded Detroit for the annual National Main Streets Conference (NMSC). Over the course of four days, they attended dozens of educational sessions at Cobo Center and traveled to 15 areas in Metro Detroit for mobile workshops. They toured Ferndale and they' partied in Eastern Market.
So why is a conference coming to Detroit such a big deal? Because this week, downtown development experts and enthusiasts from all over the nation gathered in the city quickly gaining a reputation as a hotbed for innovative approaches to neighborhood revitalization. And these aren't think tank professionals or urban development academics. These Main Street managers and volunteers are the doers — the sleeve-rollers and the stakeholders who make up a national movement of grassroots redevelopment efforts in their local communities.
And redevelopment doesn't get much more grassroots than it does in Detroit.
"There is so much innovation happening in the neighborhoods of Detroit," says Patrice Frey, president and CEO of the National Main Street Center, the group that produces the conference. "People are working to bring businesses back and bring housing back, and that is exciting. There is a lot of excitement and commonality between some of the things Detroit's neighborhoods struggle with and what our communities struggle with."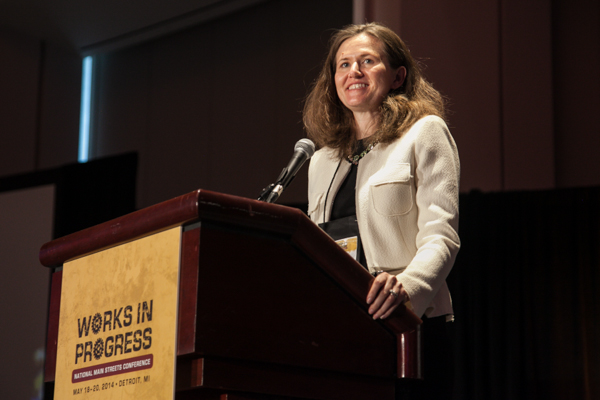 Patrice Frey
As examples of what grassroots efforts can do to create community ownership, the National Main Street Conference took attendees to Detroit's Corktown and Grandmont Rosedale neighborhoods.
"Grandmont Rosedale is a cool example of a neighborhood that hit hard times but has really come together," Frey says, mentioning grassroots entrepreneurial activity in the neighborhood. "That's such a great example of what other cities might be able to replicate in their community."
Detroit's community development leaders will also benefit from the flood of development knowledge that poured into Cobo Hall this week.
"They are basically sending a bunch of urban planners and economic development folks to a community that could use their expertise," says Cristina Sheppard-Decius, executive director of the Ferndale Downtown Development Authority, a member of the National Main Street community. "It's like getting a thousand free consultants for a week."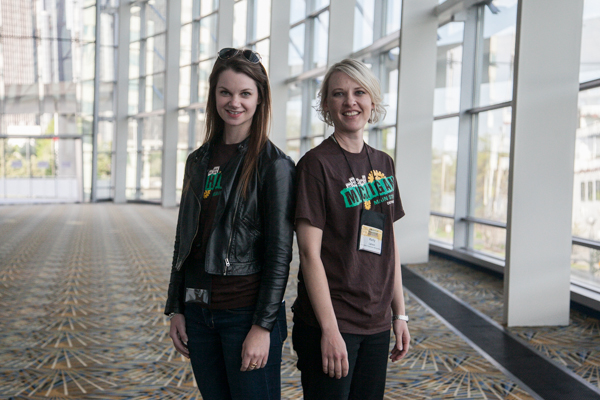 Louise Gradwohl and Kelly Larson attending the National Main Streets Conference
Main Street communities utilize the National Main Street Center's Four Point Approach, an organizational technique to revitalize historic downtowns. This comprehensive strategy addresses a range of common downtown development issues and is driven by volunteers.
"No one is going to come in and save your downtown on a shiny white horse," says Mindy Biladeau, executive director of the Main Street community group Downtown Lansing, Inc. "That doesn't happen. It take a lot of hard works and change doesn't happen overnight. You can't sit and talk about what needs to be done."
The Main Street Four Point Approach offers grassroots revitalization organizations throughout the Detroit area a framework for business development, promotions, organization, and design. It also plugs them into the network of other Main Street communities around the state and nation.
"I often say the single most valuable thing about Main Street is the network," says Frey. "If you're grappling with a challenge, odds are someone else in the network has faced that issue. There's an opportunity to learn from each other, share experiences, and not have to reinvent the wheel."
Those are lessons worth learning. Over the last 30 years, the National Main Street Center has tracked $59.6 billion in public and private reinvestment in physical improvements to its member communities, with a net gain of 115,381 businesses and 502,728 jobs. In 2013, every dollar invested in Main Street communities resulted in $33.28 of economic impact.
"That makes Main Street the single most effective downtown revitalization effort in the country," Frey says.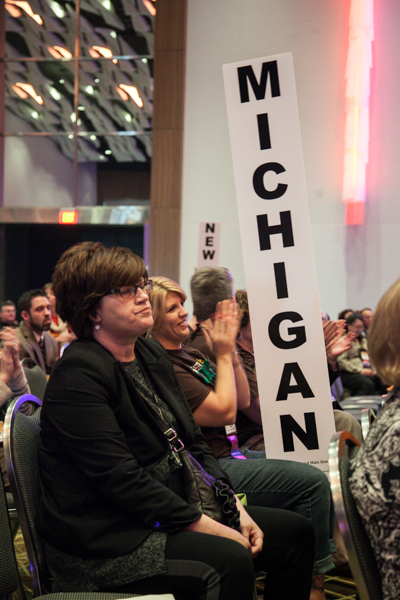 Michigan plays a big role in those numbers. While no formal Main Street programs currently exist in the city of Detroit, Michigan is home to two coordinating bodies, the Michigan State Housing Development Authority's Michigan Main Street Center and Oakland County's Main Street Oakland County, as well as more than 30 local programs throughout the state. Michigan communities have won the coveted Great American Main Street Award at three of the last four National Main Street Conferences.
"We are seeing a lot of Michigan communities really standing out," Frey says. "Michigan Main Street and Oakland County have a really strong track record of working with and investing in communities. But it comes back down to the people on the ground."
Those people, who are ready to lend a hand to improve their communities, are the common thread linking Main Street communities together.
The theme of this year's conference was "Works in Progress," which is quite appropriate for Detroit.
"There might be a lot of work ahead for areas in Detroit, but we're a city on the rise and on the comeback," says Sheppard-Decius. "We have a lot of great lessons people can learn from."
By deciding to bring its popular conference to Detroit, the Chicago-based National Main Street Center has recognized Detroit's tremendous potential to inform other cities.
"Nobody knows better than Detroiters the power of a community-driven approach to revitalization," write Frey and National Main Street Center board chair Barbara Sidway in the conference program.
And after this week, those who care the most about community development across the nation will know just how much their good work has in common with what's happening here.