Set your sights on this number: 113,000.
That's how many jobs the U.S. economy needs to hit its break-even point, to finally recover all the jobs lost in the financial crisis.
Get ready, because we're about to get there this Friday.
That's when the U.S. Department of Labor will release its May jobs report, and the outlook is rosy. Economists surveyed by CNNMoney expect the U.S. economy added 200,000 jobs in May.
Meanwhile, a separate report released Wednesday by payroll processor ADP, shows the private sector added 179,000 jobs in May. While that report was weaker than economists' expected, it's still enough job growth to get us over the hump.
Breaking even is a key milestone, but was a long time coming. It took just two years to wipe out 8.7 million American jobs, but it took more than four years to recover them all, making this the longest jobs recovery on record since the Department of Labor started tracking the data in 1939.
Plus, the jobs that have returned are not necessarily the same ones we lost, nor are they in the same regions.
States like Nevada and Arizona, which were hard hit by the housing bust, still haven't recovered all the jobs they lost, whereas states with energy booms are well above their pre-recession peak. North Dakota, for example, has 30% more jobs now than it did in 2008, and Texas has 9% more jobs than before the downturn.
Nationwide, about 4.2 million jobs lost in the crisis were in construction and manufacturing. So far, only about 1 in 4 of these blue collar jobs have trickled back.
That's in stark contrast to professional office jobs, which have not only returned, but are at an all-time high. Leisure and hospitality jobs have also made a strong comeback, and employment in healthcare never stopped growing.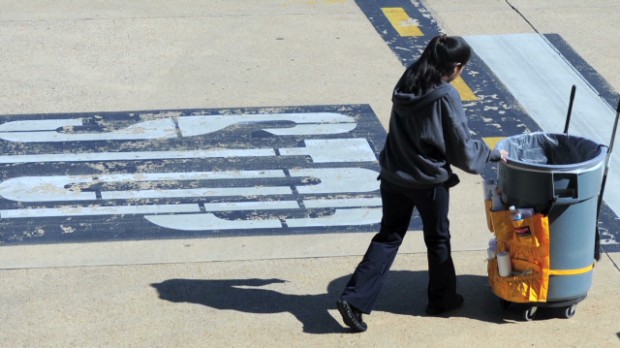 Going forward, the Bureau of Labor Statistics expects occupations like home health aides, registered nurses and retail salespersons will have the most job openings through 2022. Other occupations projected to grow include administrative assistants, janitors and, eventually, construction laborers.
Job growth is still desperately needed, because the U.S. population has continued growing. That's why breaking even is simply not good enough.
"We're reaching back to the prior peak, but one has to remember it took four years, and during those years, we had fresh high school and college graduates entering the workforce. We have to wonder about all these people," said Lawrence Yun, chief economist for the National Association of Realtors.
The country has about 15 million more working-age people now than it did in early 2008. It will take millions more jobs to achieve the kind of healthy job market we had before the recession.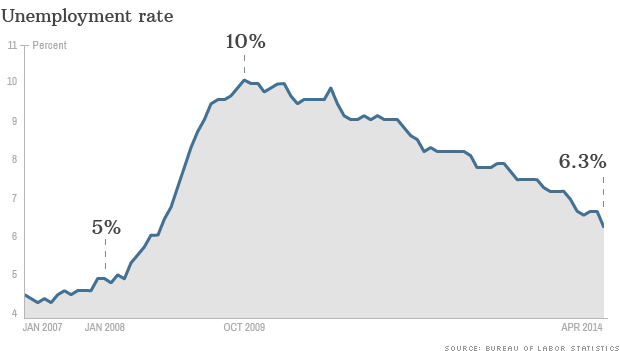 Back in 2006 and 2007, the unemployment rate hovered between 4% and 5%, but that work level was associated with an overheating housing market. Aiming for that rate may not be an achievable goal now, as baby boomers retire and some of the long-term unemployed may be permanently out of work.
Instead, economists surveyed by CNNMoney now define "full employment" in the economy as an unemployment rate at 5.5%. At that level, there's still normal turnover in the job market, which is considered healthy. The unemployment rate was 6.3% as of April, and economists expect it could take at least two years to get to 5.5%.
"We don't necessarily want to go back to a 4.5% unemployment rate — but certainly, there's been legitimate improvement," said Jim O'Sullivan, chief U.S. economist for High Frequency Economics. "It will probably take another two years until we're even approaching 5% or so."